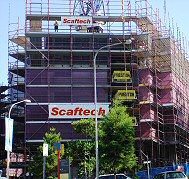 Latest News

January 2015

This site is under construction

Click here for the latest information relating to Scaftech Products


---


March 2014

Please note that since January 2014, all our products use an activation system for license control. We no longer use the dongle or hardware lock type system. This has been very well received and we will continue this approach. If your business still uses the old hardware lock system, we will still provide support but we recommend that you upgrade.



---


February 2014

Scaftech fully opened for business with new software systems for the scaffolding industry. Contact us now for further information.



---


December 2013

Scaftech is acquired by original founders Leo Tsatsaronis & Richard Muratti as Techscaf Pty Ltd.



---


January 2010

Scaftech becomes an "in house" company and the iRent/iScaf products are for internal use only.



---


December 2009

Scaftech will generally be opened during the Christmas period except for Public Holidays. For your information, the office will only be closed on the following days.

December 2009: 25th, 28th, 29th, 31st
January 2009: 1st

Note: Scaftech is closed on Saturdays and Sundays.

Once again, we thank all our customers for their business during 2009. We would like to wish everyone a Merry Christmas & Happy New Year!



---


November 2009

Product Roadmap 2009/2010:

We are pleased to announce that we are on schedule to deliver the following product releases

iRent® for Windows 7 – Now Available
iRent® for Microsoft Server 2008 – Now Available
iScaf® for Windows 7 – December 2009 (testing now)
iScaf® for AutoCAD® 2009 - 64Bit – January 2010
iScaf® for AutoCAD® 2010 – January 2010
iScaf Lite® for Windows 7 – December 2009



---


June 2009

Download the iRent 2009 latest features document here


The new iRent® 2009 Delivery Screen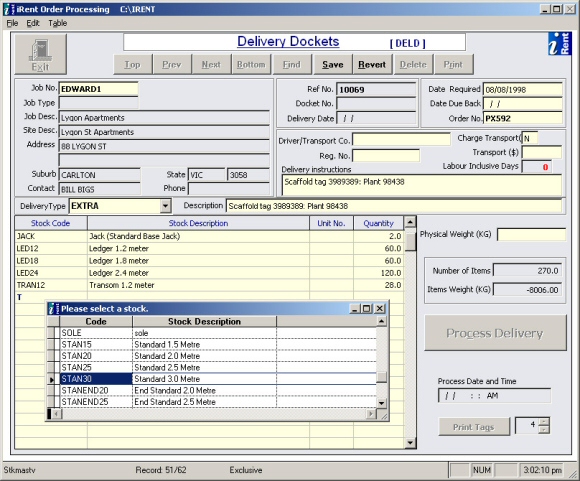 The new iRent® 2009 Job Screen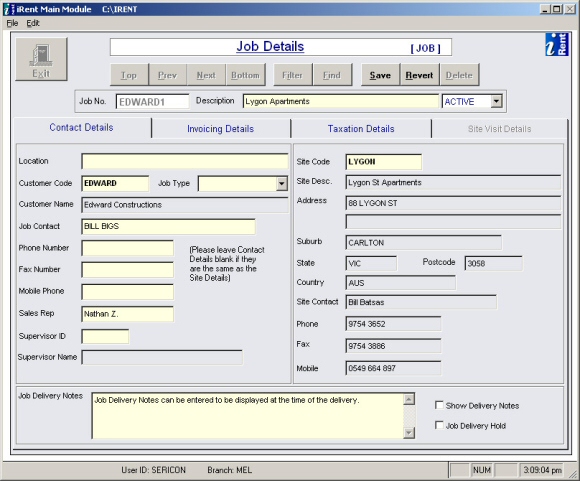 ---


May 2009

If your company has a "power user" and would like the ability to be able to change the tickets, dockets or invoice layouts yourself, please give us a call to book a training session for the iRent "Report Editor".


---


April 2009

iRent News

We would like to inform our existing iRent customers that the 2009 release has just been made available. If your company subscribes to our support and upgrades plan, you will automatically receive the CD in the mail.


Improved User Interface with new Job, Delivery & Return Screens
New Improved Security System
Improved Manual Invoice & Credit Screen
New 'Job Type' field
New Reports and Enhancements to many existing reports
Fully Compatible with Windows Vista and Server 2008




---

February 2009.

Scaftech off to a flying start for 2009.

2009 will be an interesting year for all of us but despite the global financial crisis, we are optimistic about the year ahead. In fact we believe that when times get tough customers automate to improve efficiency, save cost and improve customer service. It amazes me how many scaffold and formwork companies still try to run their businesses using spreadsheets and manual paperwork. As the price of Computing and networking continue to drop, a company management reaches a point when they realise that they need to work smarter and not harder.

A regular accounting system cannot handle the daily requirements of a scaffold or formwork business and this is where the Scaftech iRent product can provide great benefit. For estimating and design, there is a need to speed up the time to generate professional scaffold drawings with quantity lists. This is where the Scaftech iScaf product can help save time and also be a great marketing tool to show your clients that you are using cutting edge technology in your business.



---
September 2008 Newsletter

Summary of Contents
- Scaftech celebrates 20 years of service to
scaffolding companies
- New Sales Manager - George Kelzi
- Scaftech product Seminars
- iScaf New features for 2009
- iRent - Latest news and features
- The iRent Story

Download September 2008 Newsletter



---

June 2008

New iScaf Released

iScaf 5.5 will be released during July 2008.
This latest version has a whole bunch of new features for scaffold drafting and estimating to increase your productivity.

iScaf latest features



---


May 2008

Scaftech - iScaf Seminars

Scaftech will be conducting iScaf seminars in the Philippines, UAE (Dubai) & Portugal during June and July 2008. Please let us know if you are interested in attending a free seminar.

iScaf seminars showcase the latest iScaf scaffold design software including a preview of what can be expected in 2009



---